ORPHANED, BUT NOT ALONE
The following article first appeared in China Daily on March 20, 2015:
For Jenny Bowen, the distance between herself and her newly adopted daughter began to close when the child, barely 2, slowly began edging nearer on the hotel bed. "She didn't dare to look at me, but as I felt the warmth of her back inching closer to me, I also felt her courage," Bowen recalled in an e-mail exchange with China Daily.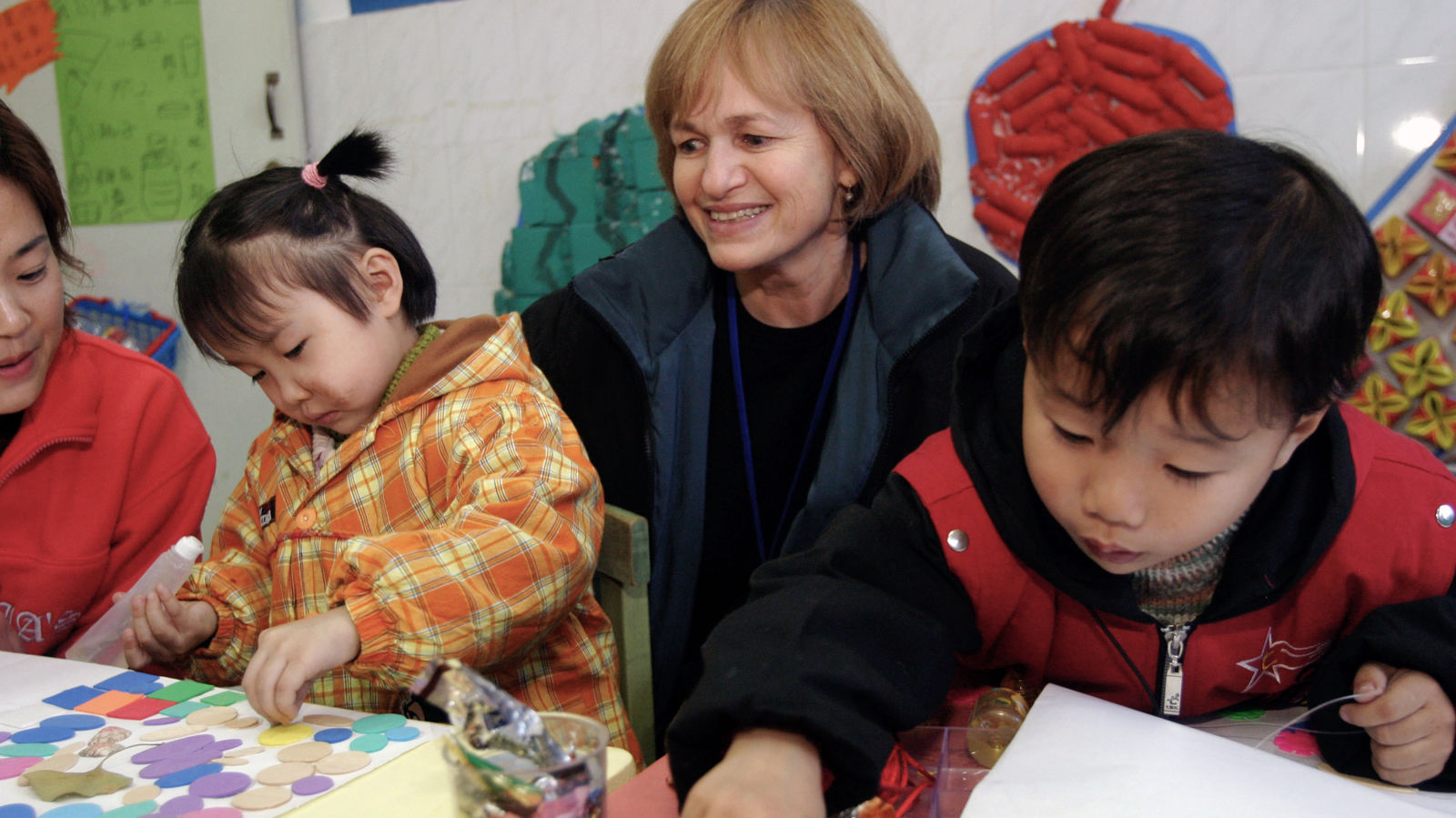 Bowen had met her new daughter a few days before, at an orphanage in Guangzhou, Guangdong province. "Her face was splotched with sores and she was clutching a dried lichee nut in each hand that had been placed there to keep her from scratching her scores. Tired and confused, she was so beautiful and so sad," said the 60-something mother of four, looking back to that hot afternoon in summer 1997. "A smiling woman in a white uniform lifted her up to me, but she arched her back when I tried to hold her. She wanted nothing to do with me."
Back in the United States, it quickly became clear to Bowen, a former Hollywood screenwriter and independent filmmaker, and her cinematographer husband Richard, that despite her one attempt at contact their new daughter would not adapt to family life easily. "She was emotionally shutdown. Vacant," Bowen said. "Her isolation was heartbreaking. She simply didn't know how to accept loving attention. But still, we did what parents everywhere do: We gave her lots of hugs and kisses. And in time, she was transformed by that love."
The girl, Maya, is now a freshman at the University of California, and she harbors ambitions of becoming a teacher. The 19-year-old was also the inspiration for her mother's charity, the Half the Sky Foundation, named for Mao Zedong's famous dictum, "Women hold up half the sky". Founded in 1998 by Bowen and a handful of friends, mostly US nationals who had adopted Chinese babies, HTS now works with about 70 orphanages across China.
"Parents know instinctively that at least one consistent, loving adult is crucial for a child's healthy development. Children who spend their early months and years in orphanages without experiencing that love often have great difficulty forming emotional bonds as they grow older," Bowen said. "In the first three years of life, a child's experiences dictate how her brain is wired. Each stimulus – each kiss, each story, each sunset – promotes the development of brain cells. Holding and stroking an infant stimulates the brain to release growth hormones, without which children cannot thrive."
Later in the exchange, she wrote: "It's our mission to offer loving, family-like care to children who remain in orphanages, no matter what has brought them there."
Enthusiasm and experience
Bowen also enlisted the help of Zhang Zhirong, a former project director with the China Population Welfare Foundation, Zhang, who speaks English fluently, first got to know Bowen during a telephone conversation. "She called to say she wanted to help the children," Zhang recalled. She later joined Bowen on visits to child welfare institutions across China, and joined HTS when she retired in 2000.
Looking back, the 70-something said her enthusiasm was fired by her deep knowledge of Chinese orphanages, and the sense that change was in the air. "Determination and perseverance aside, Jenny arrived at the right time," Zhang said. "In the early 1990s, the Chinese government started to focus on child welfare. In 1995, the World Women's Conference was held in Beijing, which drew even more attention to conditions in the country's orphanages.
"In the following three years, the government built or refurbished many orphanages, making the spaces bright and beautiful. By the time Jenny arrived, the buildings and other infrastructure were already there. All she needed to do was focus on the software, and help the government to build effective programs with trained caregivers," she said.
Emphasizing "responsive care", Half the Sky encourages caregivers to pay close attention to their charges' needs and interests, even during routine activities. By recognizing that even the youngest child needs human interaction, the nannies help to stimulate and cultivate attachment and growth, curiosity and confidence.
Frustration and despair
Achieving those goals was both easy and hard, said Liu Shan, whose career as a nanny began at an HTS program in her native Henan Province. Liu later became an HTS trainer and, later still, director of the China Care Home in Beijing. Operated by Half the Sky's sister organization, the Chunhui Bo'Ai ("Love of Spring Sunshine") Children's Foundation, the home provides a temporary refuge for orphaned babies and toddlers brought to the Chinese capital for lifesaving surgery or medical treatment.
"If there's one image from my first visit to an orphanage that has stayed with me ever since, it's the one of a little boy, too young to walk or even to crawl, lying prostrate. He repeatedly knocked his head against the bed, with all the strength he had left," Liu said. "I stood beside his bed for about 20 minutes, but he never stopped or relented.'
Confused and unsettled by what she'd seen, Liu consulted one of the nannies. "'He's just like that' – that's what I was told," the 53-year-old said. "A few days later, an HTS trainer came to the orphanage and solved the puzzle. She told me the boy behaved like that because he had feelings to share, but no one to turn to. Frustration had turned into anger and despair. All he wanted was attention, an affirmation of his oft-ignored existence," she added.
The experience prompted Liu, who had just lost her job, to join HTS. "That insight has kept me working here all these years," she said, cuddling a cleft-lipped infant girl. "Jenny is a pragmatist and an old China hand, if I may say so. From the very beginning, instead of setting up our own places, she's tried to work with government-funded orphanages by providing HTS-trained nannies and offering training to the staff at the institutions. The strategy has proved highly successful," Liu said.
"This space is special, though," she said, referring to the care home, which is located in a quiet residential area in southeastern Beijing, and comprises a two-story building – with total floor space of about 900 square meters – and a small front yard. "We bring children here from our partner orphanages. Children with serious medical conditions that the local hospitals are unable to treat effectively."
In the second-floor playroom, a dozen children, ranging from 6 months to 2 years, were enjoying afternoon playtime, attended by six nannies who they called "Mum". While a few children romped on the floor, tugged at the nannies' clothes, or tried to climb up their backs like animal cubs, others were quieter, content to curl up on their nannies' laps, or simply hold their hands. A few had unusually large heads or purplish lips – indicative of congenital hydrocephalus or heart disease – but generally the atmosphere was one of health and vitality.
"If you looked into the eyes of these children, you'd understand their longings and fears, you'd see a unique window hidden at the far backs of their minds," Liu said. "When you open that window, you will be in awe."
After spending two years working with a young boy thought to be "deaf and mute", that was certainly Liu's impression. "I met him when he was barely 6 months. No one had bothered to speak to him, thinking it would be a waste of time. Then one day, as I closed the door of his room, I noticed him make a slight, almost imperceptible turn of the head," she said. "He was hearing-impaired, but not completely deaf. That discovery changed his life … and mine."
Liu spent long periods talking to the boy, using slow, exaggerated lip movements while showing him pictures of whatever they were talking about, an animal or a toy, perhaps. By 2006, when the boy, then age 3, left for the US with his adoptive family, he had changed beyond recognition.
"The adoptive parents arrived, only to find a very different child from the one they had gotten to know by reading the materials prepared for them years ago, at the very beginning of their long application process," Liu said. "The boy who lived in silence had gone, replaced by a chirpy, jolly bird who just loved to sing! I received a letter from the couple, saying they were learning Chinese to make sure that their son remembers where he came from."
Love and loss
Not all the children's stories end so well, though. The death of 6-year-old Dang Liufang, nicknamed "Fangfang" in 2013 broke the hearts of her two "mothers", one in China, one in the US. "She had severe congenital heart disease, and had undergone many operations before being adopted by her American parents," said Yan Weimin, Fangfang's nanny at the HTS Beijing orphanage, who said she sat through many sleepless nights with the child and loved her as though she were her own daughter.
"Saddened though I was by her departure in 2011, I was also elated because her adoptive mother was an experienced pediatric nurse" the 43-year-old said. "They tried, they really did – Fangfang had further operations in the United States, but the monster won eventually. My colleagues hid the news from me for months.
"Even today, I can't stop reminding myself of our last meeting, at the Beijing Railway Station. As she looked away temporarily, I ducked into the crowd to save us both from a tearful goodbye. I wish I had stayed a little longer," she said.
Patricia King, HTS' communication officer, said that despite the sad ending, Fangfang had at least experienced the feeling of being loved, and that matters more than anything else. "I remember reading a letter written by one of our nannies to her 'daughter' when she heard about her adoption by a foreign family. She wrote, 'You were only 2 when you left us, but I hope you will remember this place in China where you were truly loved'," King recalled. "For an abandoned child, nothing heals the wounds more effectively than love, without which they feel abandoned twice over."
Decades of change
According to Zhang, a change has taken place in Chinese orphanages during the past two decades. "In the past, girls were abandoned, mostly by backward-thinking rural families that valued boys. Today, orphanages are full of children abandoned because of disability, some serious, some much less so," she said. "For them, the biggest tragedy is to be neglected and to be proved 'slow'."
This "self-fulfilling prophecy", as Bowen called it, is what she and her team set out to derail. "Before, many Chinese orphanages tended to focus solely on the children's physical needs, partly due to a lack of staff. As a consequence, the children develop behaviors associated with institutionalized children. And eventually people start expecting institutionalized children to develop problems," she said. "In HTS programs, we shower the children with love and teach them always that it's all right to have the same big dreams as other children … and to go after them."
That message was powerfully driven home a year after Maya's adoption. "I looked out my kitchen window. Maya was playing a skipping game with her friends in the garden and they were giggling so hard they could barely keep their balance – they wound up joyfully collapsing on the grass. Maya was radiant. Her eyes were bright," Bowen said. "That was the moment I knew she had truly come home – the moment I saw that a miracle waits inside every child. It was the moment I vowed to bring the same kind of transformation into the lives of children left behind."
Source: http://www.chinadaily.com.cn/china/2015-03/20/content_19863740.htm
https://onesky.org/wp-content/uploads/2015/03/sChinaDaily.jpg
900
1600
Jenny Bowen
https://onesky.org/wp-content/uploads/2023/01/25th-logo-6.png
Jenny Bowen
2015-03-20 19:15:00
2018-05-11 04:12:37
Orphaned, but not alone